---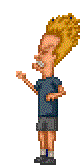 ---
THE OFFICIAL WORLD HEADQUARTERS OF

The Nation of Freaks!
---
Welcome to the official NOF website... not to be confused with cheaper imitations of lesser quality! NOF is dedicated to promoting general freakiness in today's society... both nationwide and worldwide!
SIGN MY DOGGONE GUESTBOOK PEOPLE!!! THAT'S WHAT IT'S THERE FOR OK?!?!?

---
Here's some certified FREAKY stuff, lab-tested for quality by the NOF!

What's New at the NOF [DEFINITELY updated as of 9-21-00]


Our moment of ZEN... BRAND NEW!!


Freaky random graphics


Imponderables


Stuff that's cool


Stuff that sucks


More information about the NOF


Freak Links


FreakDaddy's Friends
---
You are the latest of

people to take a hit here!
Actually, you are the
th to take a hit here since 5 Nov 1997
---
This site has been awarded the prestigious

---
Communicate with the Nation of Freaks World HQ
Any new information is greatly appreciated!
---
© 1997-2000 The Nation of Freaks. Don't mess with us.
This space graciously provided by Tripod
By the way... BigKid thinks we're weird. He's right.